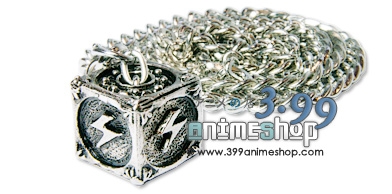 Lambo's Thunder Necklace
Description:
Behold this Vongola Box, Thunder version, now a miniature silver necklace from the Katekyo Hitman Reborn! series. The embossed 4 sided 1.4cm by 1.4cm by 1.4cm metallic box with the thunder lightning emblem on it also comes attached with a silver metal chain necklace. Used by Gamma and Lambo in the series! More Katekyo Hitman Reborn! merchandise, necklaces, plush and other toys here.
Price:90 php only!!!